While buying household appliances everyone wants to know about the average working life of the appliances, which entirely depends upon the brand of the appliance that you are buying, moreover, it's also worthy of knowing about the electrical safety certificate of that appliance. 
As we all know, with the advancement of technology nowadays appliances and machinery have become so much complex with lots of features and functions that have made its actual lifespan much shorter than before. 
So that's why where their appliances do lots of functionalities, it means there is more chance that it will last for a short span of time. Here in this article, we are discussing common household appliances and their estimated working life.
Life Expectancy of Dishwasher
Dishwasher Average Life Expectancy = 9 to 13 Years
The first thing that we are discussing here is a dishwasher, it actually lasts for about nine years, but if this appliance will be properly maintained, it can increase its lifespan to 10 to 13 years. While buying dishwashers, you should know that there is a minute relation between their overall price and durability. 
You should prefer to see the dishwasher company that is offering the most durable products that could resist rust and corrosion for a much longer time period, while side by side, they should look good in their overall appliance design and style.
Visit Our Services To Both Domestic And Commercial Customers
Life Expectancy of Oven Range
Oven Range Average Life Expectancy = 13 to 15 Years
The next common household appliance that people prefer to buy is the oven range. So the first thing that you should prefer to see while buying the oven range is its company. Because most of the time that's the company which is famous for making reliable products. 
After that, you have to see which type of oven range you want to have, whether you want an electric range or want the one operated with gas. 
Most of the electric ranges are operated with heating elements that will be prone to break down. While on the other side Gas ranges, consist of simple ignition systems that can last for much longer time periods. The expected life of electric ranges is almost 13 years, whereas the expected life of gas ranges is almost 15 years.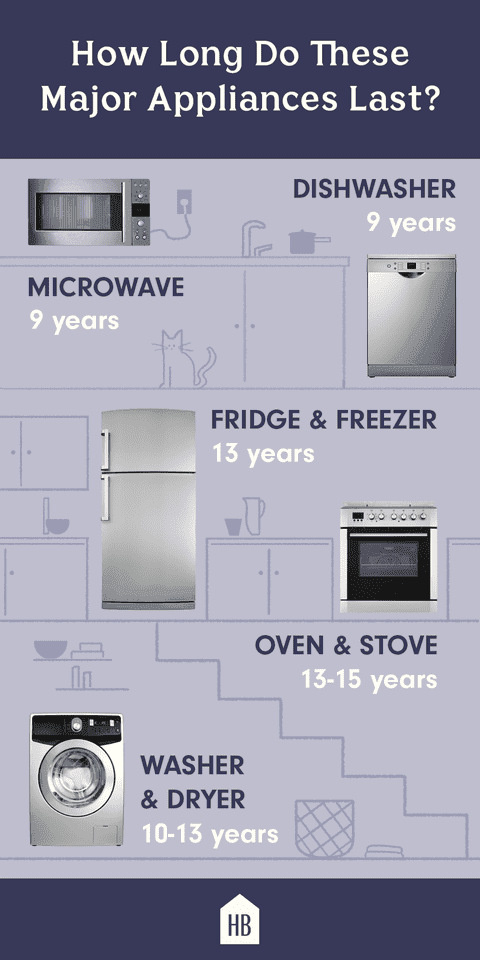 Common Appliances' Life Expectancy
Life Expectancy of Microwave Oven
Microwave Oven Average Life Expectancy = 9 to 10 Years
Next, the most common household appliance is a microwave with an expected life of between 9 to 10 years. But there are lots of different companies which are offering microwave ovens so while buying it you should prefer to opt for a reliable company that makes durable items. 
As we all know, microwaves are also a very complex product, but still, it's very easy to maintain and clean. According to the reports, if the microwave will be maintained properly regularly, you can simply increase its overall expected lifetime.
Life Expectancy of Refrigerator
Refrigerator Average Life Expectancy = 13 to 19 Years
The next most important appliance that is present in almost every kitchen is refrigerators and freezers. The total lifespan of these appliances actually depends upon the type and design of the refrigerator you have. 
So if you have a fridge that has a side door from which one is used for cooling, and another one is used for freezing, then keep in mind that this type of fridge has the worst life span that will be just 14 years. While on the other hand, top-door freezer usually have an expected life of about 17 years. Similarly, a refrigerator that consists of only one door used to have a life expectancy of almost 19 years.
Visit For Specialists in Fire Detection and Alarm Systems Installation